[easy-social-share buttons="facebook,twitter,pinterest,weibo" counters="1" counter_pos="hidden" total_counter_pos="leftbig" style="icon" template="18"]
"We highly recommend you wear tall boots and pull your socks up to avoid leeches on the way to Hang En Cave. But the leeches are likely unavoidable."
"It has been raining lately so the mud may be very, very bad."
"We offer dry bags because the river crossings may have a depth up to your hips."
"If you survive day two there will be a cold beer at the end of the trail for you."
These were all literal statements heard during the briefing session of my Oxalis Adventure Tours trekking trip into Hang En Cave. All delivered from my chipper twenty-something guide Kien between pointing out other critical details via slide show. I was apprehensive about the physical endurance requirements of the two day, one night trek long before it started. Now the pressure was really on.
– 25 kilometres through jungle and along rivers, plus four kilometres of boulder scrambling through multiple caves.
– Lunch on route to the cave in Ban Doong minority village, meeting the locals.
– A minimum of 30 river crossings, 5-30 meters across (depth ranges from your calf to hip or higher, depending on time of year).
– Camp overnight in Hang En Cave (Swift Cave), the world's third largest cave.
– Visit Hang Lanh Cave (Cold Cave), in which you will have to swim within a pitch-black cave.
– A final 400m uphill climb out of the valley, described to me as "brutally intense" from the likes of two physically fit phys-ed teachers.
God what have I done, I wondered. Am I paying over $400 to torture myself?
It turns out the Oxalis trek would become one of the most memorable travel experiences of my entire seven-month tenure in Southeast Asia. I would be spellbound after sleeping in Hang En Cave. Without a doubt, beer enjoyed after two days and 25 kilometres through the jungle tastes pretty damn spectacular. Oh, and unlike several other trekkers, I didn't even have to extract a single leech.
Now back to the beginning, or at least the briefing session.
Let's Get Briefed, Let's Get Trekking
Besides joking around with and potentially scaring the 16 would be trekkers, guides Kien and Lam also share some spectacular news. In addition to carrying all the required food and supplies for the trip, the porter team would also carry up to three kilograms of items for each guest. I was on my own for the rest, but thanks to the detailed pre-trip packing guide from Oxalis, I had successfully kept things light. And by light I mean, my day pack is near full with my DSLR camera, GoPro, a few Cliff energy bars, bathing suit, rain jacket, extra pair of shoes, and a generous helping of bug spray. All things, by the way, that I recommend for future trekkers. From my very first encounter with the Oxalis Adventure Tour website, the locally run organization presented itself with extreme polish and attentiveness. The guides and porters continued with this as we set off into Phong Nha-Kẻ Bàng National Park.
The mini bus drives 35km up the winding Highway 20, part of the Ho Chi Minh Trail, through Phong Nha-Kẻ Bàng National Park. At 126,000 hectares, it's Vietnam's largest National Park and is adjacent to another 80,000 hectares of protected land in neighbouring Laos. It protects 104km of caves and underground rivers (as well as more yet to be discovered). The photos from within Son Doong Cave below give you a sense of the level of epic I'm talking about when it comes to this cave system.
As we progress, my earlier panic subsides and all the trekkers begin to introduce themselves. Our group is made up of nearly equally males and females, 19 to mid 30 year olds. Despite varying levels of trekking experience, by all accounts we appear to be a relatively fit group. We're comprised of a few couples from Germany, Switzerland, Canada and the US. A pair of guys from India, four college students from Massachusetts on spring break, a world travelling teacher, and myself round things out.
Down The Valley We Go
We arrive at what appears to be a roadside bus station, a modest concrete platform with a roof. It turns out the trail down into the valley begins immediately behind the platform. Within minutes we naturally fall into line, as we descend what can only be described as steep mud steps carved into a cliff face. As we navigate the thick mud I'm thankful for both the Oxalis provided trekking boots and gloves. Poison ivy quickly presents itself on the trail, along with thorny rattan branches and a myriad of other jungle 'treasures'.
Phong Nha-Kẻ Bàng National Park is a UNESCO World Heritage recognized site, both for its exceptional cave system, awarded in 2003 and for its biodiversity, awarded in 2015. It is home to the world's largest cave, Hang Son Doong, as well as Asia's longest dry cave system spanning over 44km. If that weren't enough, this specific trek itinerary involves an overnight camping experience inside Hang En Cave, the world's third largest cave. This is true unspoiled jungle, through and through. And we're all loving it.
After about an hour, we reach the valley floor and our trail opens as we follow the river bed. When the website warns of 30+ river crossings, they are not exaggerating. The chilly streams are impressively clear and carry with them unexpectedly strong currents. The porter team once again come to the rescue, offering a literal hand to help cross rivers.
Trekking in late March seems to have been perfect planning – though a bit of a fluke on my part. Trekking to the caves closes September to mid December due to high water levels brought on by the rainy season. Late December to February the water levels are high and temperatures very low. But late March into April provides ideal 20-25 degree trekking weather and water levels never exceeded my upper thigh. Come May, water levels continue to drop but temperatures can exceed 42 degrees, making the journey a grueling one for trekkers and porters alike.
The small stream within the jungle gives way to a partially dry river bed of the Rao Thuong River. Stunning views of limestone karsts present themselves in the distance. The discussion naturally turns to the long list of movies that have featured this magical land, the latest of which is the newest King Kong movie. As I trek along with the group I half expect to see giant dinosaur footprints in the mud alongside the grazing water buffalo. For the first time in my life I feel I am literally in the midst of a Jurassic Park movie.
Arriving At Hang En Cave
Lunch in a small village en route to Hang En is an impressive spread of do-it-yourself fresh pork spring rolls. By 3pm, after 12 kilometres and nearly six hours of trekking, the massive mouth of Hang En Cave presents itself. It turns out Hang En Cave has many openings and we don't actually enter through the iconic visual shown in most of the promotional shots of the cave. "Too dangerous" I'm told. Instead we enter along a shorter wide opening, still an impressive five meters tall and at least 50 meters wide. Looking in from the outside, it's a long narrow slit of black. If it weren't for our headlamps we would see nothing. The only thing we hear is the flow of water and the sound of thousands of swifts and bats who call the cave home. We're so close to our campsite for the night, I can feel it. But first, a formidable hike up sand dunes and boulder scramble through varying levels of utter darkness.
A few hundred meters, and perhaps 15 minutes later, the view of our campsite comes into sight. This is what I am paying $350 USD for. And it's worth every penny. Once again, the guides prove their immeasurable value, bringing each trekker one at a time to the edge for a mini photo shoot. They know just the rock to stand on and right angles to capture the perfect picture from. Later on in the evening they would again out do themselves helping to orchestrate some extended exposure shots in a highly coordinated lighting effort with the rest of the porter team. As an amateur photographer, I'm in heaven. I can't help but think about the other packages Oxalis Adventure Tours offers including photography tours that include specialized lighting equipment. A reason to to come back, as if I didn't already have enough.
After only a few minutes settling into camp and identifying our tents, guides whisk us away to explore the rest of the cave. Another few hundred meters, another boulder scramble, and another monumental cave opening. The 'exit' of Hang En Cave measures over 120 meters high and 140 meters wide. None of my photos represent the scale of the surroundings in a meaningful way. It's a massive place.
I'm in the presence of entire trees carried by river flow, massive truck sized boulders which have crashed down from the ceiling. Around me, what can only be described as hundreds of thousands (if not millions) of swifts that call the cave home. I can't help but feel small. In no uncertain terms Hang En Cave reminds me of my place in the world. The development of the cave system of Phong Nha-Kẻ Bàng dates back over 400 million years. While Hang En Cave itself is a mere three million years old (given its position along a fault zone), it was only first explored by British caving experts in 1994. Fewer than 2,000 trekkers get to camp overnight in it each year. I'm truly grateful to be part of a small blip on Hang En's timeline.
Camping In The World's Third Largest Cave
For dinner we're treated to a feast fit for royalty. The flavour and range of dishes, all prepared in the middle of a cave are astounding. Beef stew, multiple soups, grilled eggplant, spring rolls, morning glory with garlic, cabbage, stir fried chicken with pepper. The gluttonous list goes on. And for those with a craving for more western dishes, out of this world fried chicken and thick cut french fries. If you have room, fruit and tea for dessert.
After a few rounds of 'happy water' (local homemade rice wine) to help ensure a sound night's sleep, everyone retires shortly after 9pm. There is no ego, no late-night debauchery. We're all tired and just thrilled to be here.
Temperature in Hang En Cave is always a bit cooler than outside. A comfortable 23 degrees during the day when we arrived dipped down to mid-teens overnight. The tents are reasonably comfortable and sleeping bags sufficient given your surroundings, but midnight runs to the bathroom are inescapably brisk endeavors. Any discomfort from the temperature is quickly forgotten as campers have to deal with the matter at hand – using headlamps to navigate themselves through an otherwise pitch black cave to find the bathroom facilities. The facilities by the way are rather impressive. Two private tents are set up with 'western style' toilet seats and a slick compost system. Now you know.
Day Two Gets Even Better
Waking up and opening your tent to see sunbeams entering the cave and the of smell breakfast underway is nothing short of magic. A bit too cold and tired after yesterday's journey, I declined swimming in the cave's mini lake the evening before. I told myself I would take a morning dip instead. Apparently, I lied. I was far too comfortable in my sweatpants to consider getting wet any sooner than was absolutely necessary. And I already knew there are plenty of opportunities to soak one's self during the upcoming trek back.
Following breakfast we set off three kilometres down the trail to the Hang Lanh Cave (Cold Cave). Entering the cave involves swimming about 40 feet before one finds the ground and can stand again. It's much narrower passageways and lack of light in contrast to Hang En Cave are not for the faint of heart. I'm yet again thankful for the powerful headlamps provided by Oxalis. Swimming, fully clothed, with life jacket, helmet, gloves and the aforementioned head lamp isn't the most glamourous feeling I've ever experienced. However it's a firm requirement given the environment of jagged rocks. The rocks vary from burnt orange to a dark red colour and the water is beautifully clear. Though both are of little consequence when your surroundings are so dark. We enter a completely new world. The combination of walking, wading and swimming one kilometre through Hang Lanh lasts about an hour, after which we are all surprisingly ready for yet another meal. The Oxalis team presents us with giant steaming bowls of Pho. God bless those porters and chefs!
Before long we head back along a slightly different route towards humanity. If the trek doesn't do it, the scenery will certainly take your breath away. The leech reminders increase in frequency, with brief personal checks recommended every 20 minutes or so along the route. Truth be told, the walk through the valley and along the river bed isn't overly strenuous. It's a photographer's dream. Camera or not, we all soak up the views as much as possible.
The Final Climb
Alas, Kien and Lam announce we have reached the "hard part". Before us lies a 400 meter vertical climb that at times feels like a mud stairmaster. They estimate it will take us 90 minutes. The guides once again remind us that the porters, who are already carrying 30-45kg of goods, are available to carry our bags (or ourselves) as needed. It's a solid climb that requires mini breaks for your burning legs. However, no one breaks down enough to need the porters.
I'm not going to lie, when presented with a 'jungle fan' made of palm leaf I happily take the offering to help keep cool for the remaining trek. It's also a handy swatter for the massive hybrid wasp-deerfly-beetles along the route. In case you were wondering 'wasp-deerfly-beetle' is a new term I plan on trademarking. Though I'm quite accurate in my description of the poisonous monsters who appear to have a particular affinity for Nike apparel wearing Canadian females. I digress.
Somewhere towards the back of the group (but not the last), I somehow find myself hiking alone for much of the final journey. The college kids a solid four or five minutes ahead of me, the porters about 200 meters behind me (and closing). The jungle is thick and at times the path ahead seems anything but obvious. You follow your instincts as much as the sounds of others until the road finally presents itself. The trek ends with high fives from your guide who places a cold beer in your hands. You're sweaty, wet, covered in mud and haven't seen a shower in two days. But you feel nothing short of marvelous. A group photo captures the emotion of the trip, and before you know it, you're driving back towards civilization.
Ultimately, the Hang En Cave trip is nothing short of amazing for adventurous travellers willing to journey to Phong Nha. The Oxalis Adventure Tours team delivers on every hope their guests could possibly imagine. And these words of praise are coming from a pretty experienced, selective, and at times pretentious traveler of Southeast Asia. If I'm ever in Vietnam again, I commit I will somehow find the time, and more importantly the money, to explore the largest cave in the world, Son Doong Cave, with this team. The price tag of the 5 night Oxalis trip is a hefty $3,000 USD, so I better start saving now. Just as importantly, the wait list seems to be full one and a half seasons in advance. They are currently booking for 2018.
Here's to crossing paths somewhere in a cave in the middle of Vietnam. Happy trekking!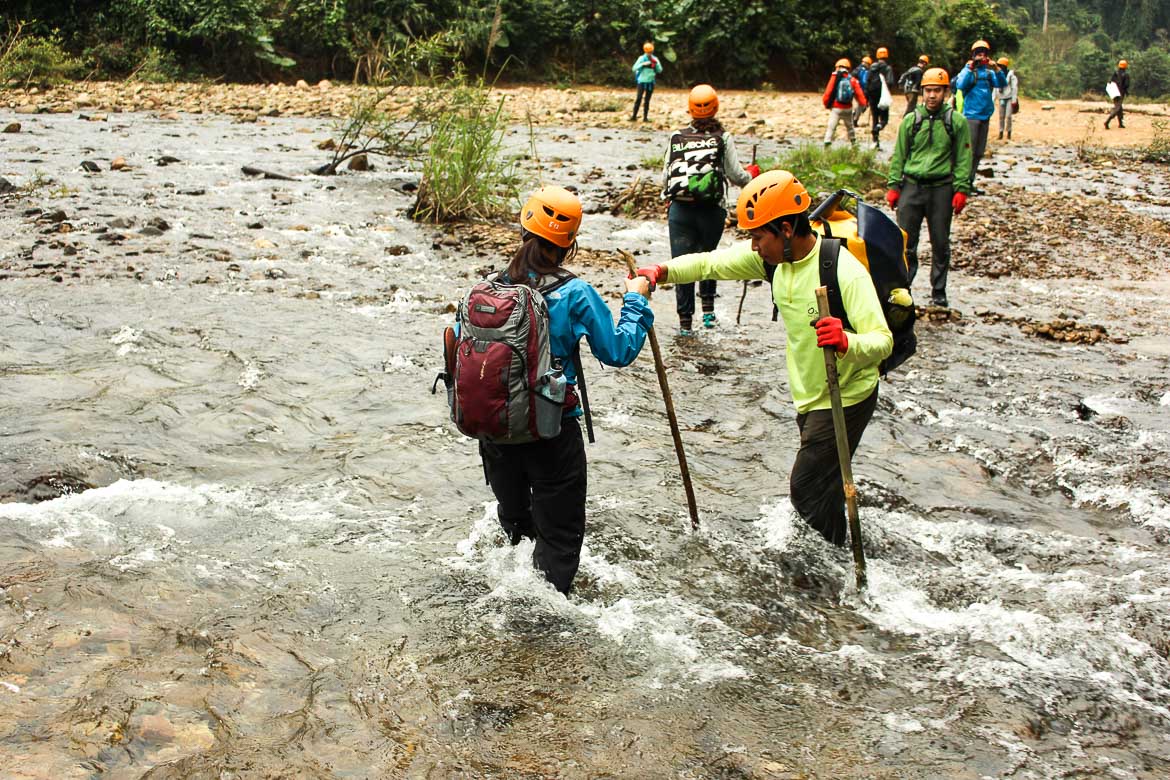 ---
Hang En Cave trekking photos courtesy of Madeline Burch, Kien Hoang Trung and Oxalis Adventure Tours.
---
Make your next trip the best one.
Departful is a full service travel agency creating truly exceptional travel experiences that are 100% personalized to you. Wherever you're going, whatever your interests, we help you plan the perfect trip.
Madeline was born and raised in Toronto Canada, educated in marketing, and has worked in brand management and the alcohol industry for nearly a decade. In search of great drinks, stories and photos, she has travelled to South East Asia multiple times including a recent eight month stint based in Vietnam. From luxe travel to volunteer missions, she's interested in it all.
More travel inspiration from Departful
---